Accommodation and Restaurants
Authentic flavours
Polenta, alpine pasture cheeses and cold cuts are the typical dishes that distinguish the traditional cuisine of the region, which also benefits from some elements of the Mediterranean cuisine, thus influencing the ticinese culinary tradition. All kind of cheeses, "foragelle", ricotta and other alp products can be purchased directly from the producers at the mountain pastures Rossino and Pozz.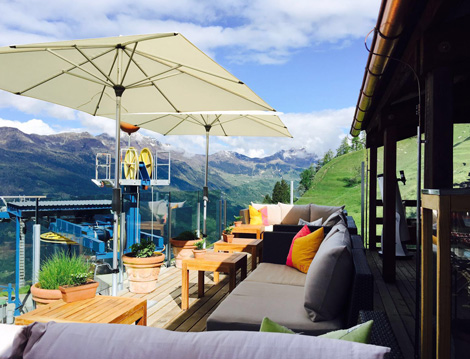 Number of seats: 35, number of beds: 10
Altitude: 1,400 metres above sea level
Location: Malvaglia Valley
Coordinate:
Map: 1:25.000, National Map number 1273, Biasca
Owner: Filovia Malvaglia SA
Opening times: please visit www.sassmalt.ch

The recently renovated Ristoro Sass Malt is the source of pride of the new management. Situated at an altitude of 1,400 metres above sea level, just a short way from the cable car arrival station, it offers breathtaking views over the Blenio Valley and the snow-covered mountains of the area.
The restaurant, built in 1996, was entirely renovated to offer the customers a place to rest and eat suitable to the necessities of today. The owners wanted to do something to make the nearby arrival station more attractive, nonetheless keeping the main structure. There are now 35 seats inside and 30 on the outdoor terrace. The first floor interiors have also been modernised, and there are 10 beds ready for whoever wants to stay at the Ristoro Sass Malt.